MISCONCEPTION #1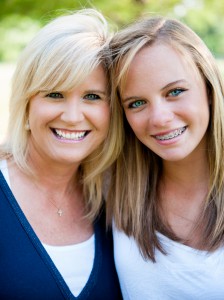 Parents need to wait until all baby teeth have fallen out before making an appointment to see an orthodontist.
Don't wait. If baby teeth are not lost in the right order, or if a tooth is lost and more than three months go by with out a permanent replacement coming in, there may be a problem. This is what an orthodontist evaluates at your child's first visit.
MISCONCEPTION #2
Baby teeth always fall out on their own.
Most people think that baby teeth, or primary teeth, automatically fall out. Though it's true that most children lose them before their teenage years, there are some who retain primary teeth into adulthood. The timing of when you lose or don't lose baby teeth is very important. Premature loss of baby teeth or baby teeth that fail to fall out are indicators that something may be wrong. The good new is that a phase of early orthodontic treatment can help correct this, helping to ensure your child has a beautiful smile.
MISCONCEPTION #3
Kids should wear braces in middle school or high school.
Timing for braces is not determined by a child's age but rather by the development of their teeth. Some children are ready for braces at age nine and some as late as age twelve. The benefits of early orthodontic treatment include faster treatment time and better results, so don't wait for your dentist to refer you to an orthodontist. Be sure you schedule a consultation by age seven.
MISCONCEPTION #4
All orthodontic services are the same, so it doesn't matter which orthodontist I choose.
You're not buying braces, but rather paying for the expertise and experience of the doctor. Each doctor's approach is different and the customer service can vary significantly. Ask friends who they trust, check out the practice's website and social media activity, and consult with two or more doctors to find the best fit for your family. This will help make it clear which orthodontist best fits your needs– and it doesn't have to be the one closest to your home. Remember, once treatment begins, most visits are typically several months apart.