Gordon C. Honig DMD, eliminates gooey, drippy impressions for  children, teens, and adults in Newark and Middletown, New Jersey and the greater Wilmington, Delaware area.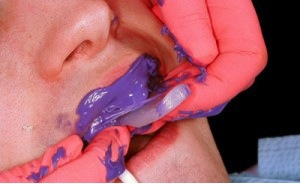 Dr. Gordon C. Honig is among the first orthodontists in the country to offer new digital scanning technology to patients.
Creating a positive patient experience and using the latest digital technology is not something new at Honig Orthodontics.  Dr. Honig believes that innovative technology should always be a benefit to his patients. His practice was among the first to introduce paperless patient records and digital imaging, which allows doctors to view all treatment notes, photographs and x-rays right at the chair.  Dr. Honig was the first in Delaware to provide his patients with reduced radiation exposure using a digital x-ray machine.  The newest innovation to benefit patients of Honig Orthodontics is the iTero scanner from Invisalign.  "This technology has allowed us to enhance our communication with both patients and parents as well as improve our clinical results,"says Honig.  "At the same time, it eliminates the need to have that gooey stuff in your mouth for us to take impressions, which everyone is happy about."
Honig Orthodontics reports that the fastest growing segment of new patients is adults and teens.  While most are still treated with braces, clear or lingual (behind the teeth), many are opting for the invisalign system of clear aligners.  iTero scanners are directly integrated with Invisalign.  Once patients are scanned, the scan goes directly to Invisalign, resulting in faster service and better fitting aligners.  Although traditional impressions are still occasionally necessary, Dr. Honig's practice is leading the way to straight teeth in a more convenient, pleasant way.  "It's just one of the ways that we're continually striving to create a positive patient experience," concludes Honig.  
Honig Orthodontics offer complimentary new patient exams.  To learn more, visit www.honigortho.com, call 302-737-6333 in Newark, NJ or 302-696-4020 in Middleton, NJ or visit Honig Orthodontics on Facebook at  http://www.facebook.com/HonigOrtho.