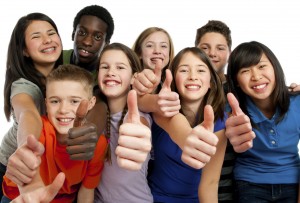 As a parent, you may be wondering why some children are seeing an orthodontist at an early age.  Dr. Gordon Honig, of Honig Orthodontics, with offices located in Newark and Middletown says, "It's all about prevention."  Many orthodontic problems are best addressed when children are young and growing.  In fact, correcting a developing problem early can often prevent the future removal of permanent teeth and even shorten the amount of time in braces.
If you are the parent of a child who is seven, eight or nine years old and who has over-crowded teeth, an over-bite, an under-bite, or active finger habit, you may want to consider early two-phase orthodontic treatment at Honig Orthodontics.
What is it?
Basically, this is a special process that works with your child's growth, properly aligning the jaws while also improving the appearance of the teeth.  Permanent teeth should be in harmony with the face, cheeks, tongue and lips for both functional and esthetic purposes.
Phase One
Dr. Honig typically begins Phase One when children are about seven or eight years old.  The focus of this phase of treatment is on the development of the jaw.  The goal is to ensure that the lower and upper jaws fit together properly and is accomplished through the use of specific types of appliances designed for this purpose.  Generally, Phase One takes about six months to a year to complete.
Phase Two
Following a resting period in which permanent teeth are allowed to erupt, the second phase of the treatment process begins.  Phase Two typically starts when the majority of the permanent teeth have grown in and usually involves braces or Invisalign Teen®.  This phase of treatment is optimally accomplished without removal of healthy permanent teeth.
The American Association of Orthodontics recommends that every child have an orthodontic evaluation no later than the age of seven.  Early detection of jaw, bite and tooth problems helps to identify and plan for effective treatments that will prevent more serious problems later on.
To learn more about early two-phase orthodontic treatment and whether your child may be a candidate, contact Dr. Gordon Honig for an evaluation.  Honig Orthodontics has two office locations in Newark and Middletown, DE.  Call today for a free consultation (302) 737-6333 or visit their website at https://honigorthodontics.com.
Google
Honig Orthodontics proudly serves Wilmington, Newark, Middletown, Dover, and the surrounding areas.